5 Space-Saving Design Tips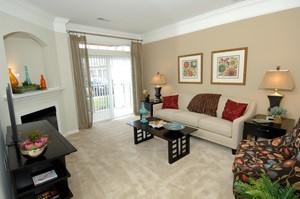 Whether you're moving into a new apartment or celebrating another year in the apartment you already call home, finding and making space for your belongings and furnishings is a constant. Even if you're an organized minimalist, saving space can be a daunting task, especially if you find yourself downsizing, taking on a new roommate, growing your family or simply accumulating stuff. 
Your home is your sanctuary, and you want to be able to move through it freely and comfortably, without stepping over piles or squeezing through narrow walkways. Put your stuff into space-saving place with simple design tricks that will help maximize your space and celebrate your unique style. 
If your apartment is starting to feel cluttered or cramped, try these 5 tricks and save space and your peace of mind.
Adhesive Hooks and Strips
The benefits of using adhesive hooks and strips is that you won't have to drill anything into your wall that may need repair, down the road. Use removable adhesive hooks to hang everything from your curtain rods to your kitchen tools and even artwork.
If you're finding yourself running low on cabinet space in your kitchen and cluttering your countertops, use adhesive hooks to hang your pots, pans, collanders, soup spoons and more. Fix adhesive hooks on the inside of your kitchen cabinets to hang measuring spoons and attachments. 
Use adhesive hooks at your entryway to hang scarves, hats and jackets. Attach hooks to the inside of your closet and bathroom doors to hang accessories, towels, robes and linens. No space for a jewelry box? Use hooks along the wall above your dresser to beautifully display and hang your necklaces, bracelets and jewelry.
Behind the Door Storage
When it comes to closets, bathroom and bedroom doors, hanging over the door hooks is the simplest, fastest and least expensive way to save space and store your stuff. Behind your closet door, consider hanging a shoe storage rack. Behind your bedroom door, hang scarves, purses or other accessories that can clutter drawers and clog closet space. Behind your bathroom door, hang your towels and bathrobes. In your living room or hallway closet, consider hanging an over the door ironing board for quick and easy use when you need to get up and go. You can also consider hanging outdoor apparel and accessories and save yourself from placing a heavy coat rack beside your front door.
Storage Ottomans and Coffee Tables
Many ottomans and coffee tables now come equipped as storage units for your books, magazines, game boards and other chotchke. You can use these spaces to store holiday decorations, photographs, knitting work or any other items that tend to sprawl out across your living room. You'll be be able to tidy and bundle loose papers, magazines and books without having to add a large shelving unit or place storage bins throughout your home, so you can maintain your design aesthetic with no problem!
Hanging Wall Shelves
Hanging wall shelves is a simple way to get items up off your coffee tables, mantles and floor, and onto a tidy shelf out of your walkway. These come in a variety of different price ranges and sizes, so you can meet your budget and your space-saving needs easily. Hang wall shelves in your living room for books, picture frames and chotchkes. Hang them above your desk for storing technology, gadgets, books and binders for work. Or, hang them in your bathroom and store soaps, fresh flowers, folded towels and linens conveniently and beautifully. 
Choose a Modular Sofa
Let's face it, you can't get around big, bulky furniture no matter how hard you try. That's why we recommend purchasing a modular sofa that offers you flexibility to move around as your lifestyle and home environment change. Modular sofas come in a variety of formats, so you can choose a style and design that suits you and is most adaptable to your life. Over time, as your space needs adjusting, a modular sofa will allow you to move a section of the sofa to another part of the room to allow better flow and overall comfort!