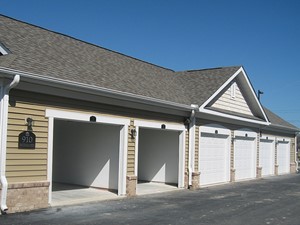 After a long winter and a rainy spring, your car may be needing a spruce up before you head off on summer vacations and weekend day trips. The good news is that our community features a convenient car wash station that makes it easier than ever for you to declutter, clean and shine your car without the hassle and expense of a detailing service. 
Before you get up to the business of cleaning muddy floor mats or dusty dashboards, you'll want to make sure to declutter your car, removing extra items and debris that keep it from being tidy and neat. You'll also want to make sure you stock up on the right supplies, choosing appropriate cleaners for cars with leather or upholstered seats. Glass cleaner, dashboard protectant, towels and wipes are enough to get you started.
Here are simple tips to help you get your car sparkling and clean from the inside out, so you can head out for new adventures on four wheels this summer!
Declutter
Before you can get down to the business of cleaning, you'll have to clear out your space. If you've been lugging around files from the office, your kids' sports materials, empty water bottles or anything else that takes up space, it's time to get rid of it.  
Vacuum
Once you've cleared the space out from around and underneath your seats, it's time to vacuum up the dirt, debris, dust and crumbs that might be littering the spaces of your car. Make sure to move your seats forward and backward so that you get into every nook and cranny, and prepare to be surprised! You might find loose change or other items you've been looking for stashed into the crevices of your ride!
Clean Glass
While it's best to use automotive specific glass cleaner, Windex will work, as well. Spray the cleaner directly onto your towel and wipe all glass surfaces. When you're finished, buff out any streaks with a dry towel, and your windows will be sparkling!
Dashboard
Use dashboard protectant to clean off and protect your dashboard and other surfaces from UV rays by spraying directly onto a towel (not the same one you used for cleaning glass!) and wiping from top to bottom. 
Seats (leather and upholstered)
Depending upon which type of fabric you have, you'll want to choose an appropriate cleaner to help you remove stains and clean seats without causing damage. If you're cleaning leather, you'll need to use both a leather cleaner and a conditioner to replace any oils that may be removed by cleaning. If you're cleaning fabric, you'll want to spray upholstery cleaner directly onto surfaces and clean with a stiff brush before wiping and drying with a towel.
Steering Wheel & Gear Shift
Use protectant wipes to wipe off your steering wheel, gear shift and other parts of your console to remove dirt, germs and other grimy goods that may have come off your hands over the last few months. You can find appropriate protectant wipes in the automotive section of your hardware store.
Mats
Finally, your mats! Take them out and shake them out before spraying them off with a hose (if plastic) and wiping down with cleaner. If your mats are fabric, you'll want to vacuum and clean with appropriate fabric cleaner before wiping down with a towel and placing them back in the car.