Must-Have Essentials For Your New Apartment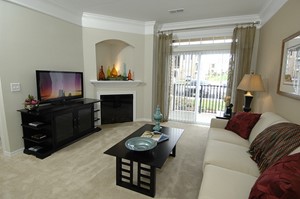 After all the time you put into finding the perfect apartment with the amenities you love and in a community that feels like home, when your move-in day arrives, you'll want to move in and feel comfortable, right away. Whether you're a veteran renter or starting out on your own for the first time, there are a few must-have essentials that will make living in your beautiful new space a breeze.
While we know it might sound obvious, it can be easy to forget things like dishes, bottle openers, cleaning supplies and a screwdriver when you're in the midst of packing up your life and preparing to move it across towns, states or even the country. Before you make your big move to your brand new, just right for you home, make sure to keep these 5 must-have items in your packing list, so you can come home with ultimate ease.
Kitchenware
Whether you're a world-class cook or your specialty is sliced cheese and crackers, you're going to need several items in your kitchen to be comfortable and at home. Start by picking up a drying rack to help you clean up after you cook, then grab oven mitts, spatulas, wooden spoons, a soup ladle, a mid-sized pot and mid-sized frying pan, toaster, tea kettle, large, stirring spoons, a can opener, bottle opener and a set of mixing bowls. As the days go by, you'll want to stock your kitchen with the foods and seasonings you love, but for now, pick up the bare essentials so that you can eat at least 1-2 meals at home during your first few days of move-in.
Cleaning Supplies
Even if your movers do a pristine job of loading and unloading your goods, there's likely to be some dust and dirt leftover from your move, and before you set up your space, you're going to want to clean it up. Make sure to purchase a broom, mini-vacuum, vacuum, dust pan, all-purpose cleaner, sponges, dish detergent, dishwasher detergent, trash cans, trash bags, a toilet brush and plunger, paper towels and dust wipes. It'll help you to move in without feeling weighed down by debris and dust, so you can kick back and soak in the feeling of being home at last.
Bedding/Linens/Towels
Don't make your move without bringing a mattress protector, sheets, pillow cases, a comforter and a spare set of sheets and blankets. After a long day of moving, you're going to crave a hot shower and a good night's sleep, so make sure to pack towels, washcloths and a bath mat, as well.
Dishes
Even if you live on takeout for the first few days in your new apartment, at some point, you're going to want to eat on real plates, using real silverware and drinking out of actual glasses. You don't have to purchase an entire set of dishes, silverware and glasses to start. Pick up a small set of silverware in a design you like, as well as 4-6 plates and bowls. You can get a box of 4-8 glasses easily at your nearby Target or Walmart, and you'll be well on your way to dining comfortably at home.
Tools
While one of the big perks of renting is living a maintenance-free life, there are going to be times when you'll need the bare essentials when it comes to tools. Make sure to pick up a small tool box and stock it with a flat-head and phillips head screwdriver, tape measure, hammer, nails, pliers, crazy glue, spackle and putty knife. These basic items will make your life easier when you need to measure space for furnishings, repair damaged belongings and other needs that will arise as you live into your new space.