Stock Your Pantry For Culinary Success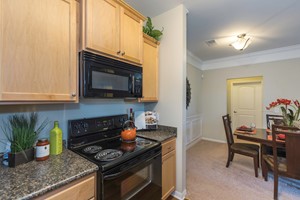 Whether you've recently moved into your new apartment, or are simply ready to begin sharpening your cooking skills for the upcoming holidays, you'll need a well-stocked pantry in order to begin putting your gourmet kitchen to good use. In fact, with a simple list of pantry essentials in hand, you can have your pantry prepared for culinary success all year long.
After all, you have a dynamic life, and don't have time to visit the grocery store each day to pick up that one last remaining item on your recipe's ingredient list. Plan ahead, and you'll save time and money, while creating delicious dishes and baked goods for your entire family to enjoy.
Here is a list of pantry essentials to help you get up to great work in your beautiful, new kitchen, right away! Bon appetit!
Basics
In order to create even basic meals or snacks, you're going to need a few items on hand at all times. Stay stocked with the following, and you'll be able to whip up simple dishes in a pinch:
Salt (Kosher and Fine)
Black Pepper
Extra Virgin Olive Oil
Canola Oil
Balsamic Vinegar
Rice Vinegar
Red Wine Vinegar
Apple Cider Vinegar
Spices
While you can go a long way with simple salt and pepper, if you're really going to start flexing your culinary muscles, you'll need a stash of commonly used spices to help you along. These should do the trick:
Garlic Powder
Onion Powder
Bay Leaves
Cayenne Pepper
Chili Powder
Ground Cumin
Ground Cinnamon
Ground Cloves
Ground Ginger
Paprika
Oregano
Curry Powder
Thyme
Dill 
Nutmeg
Baking
When you want to break out your baking skills, you'll need to have a few items on hand. Even simple muffins or bread will require more than just flour and eggs. These ingredients should get you going:
All Purpose Flour (white, whole wheat, spelt, etc.)
Baking Powder
Baking Soda
Cream of Tartar
Evaporated Milk
Granulated Sugar
Brown Sugar
Confectioner's Sugar
Maple Syrup
Honey
Vanilla Extract
Chocolate Chips 
Unsweetened Cocoa Powder
Rice, Grains, Pasta
Most nights, you'll want to include some kind of grain or pasta into your meal to help you meet dietary requirements, fill you up and take in hearty fiber. If you keep these items on hand, you'll have good choices for every night of the week:
Pasta Noodles (spaghetti, rotini, linguini, egg noodles, whole grain, etc.)
Standard Grains: Quinoa, Cous Cous, Bulgar
White Rice
Brown Rice
Wild Rice
Breadcrumbs
Canned Goods
Quickly prepare your favorite dishes with canned items that help to create tasty broths, hearty sauces and delicious dips or sandwich fillers. Here's what you'll need:
Chicken Stock or Vegetable Broth
Tomatoes
Tomato Paste
Tomato Sauce
Roasted Red Peppers
Beans (black, navy, cannelinni, chickpeas)
Olives
Salsa
Tuna
Anchovies